Upcoming events
The Next Festival of the Dark Event is:
Witnessing the Dark workshop

Saturday 28 October 11-12.30 or 1.30-3pm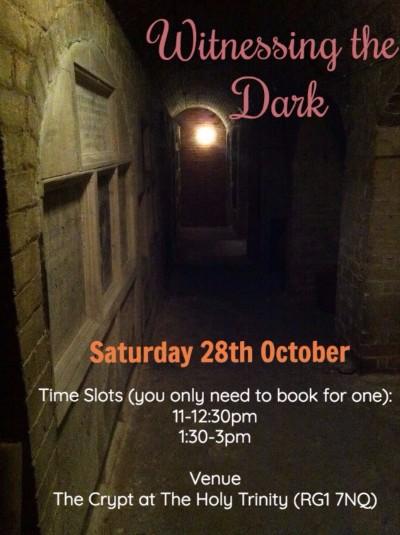 Outrider Anthems invites you into the belly of Reading this October on a journey of Witnessing the Dark, led by Jon Randall. This reflective workshop gathers our community to explore the challenging narratives (ecological, social, political) that face us on a daily basis. Witnessing the Dark is based upon the premise that we cannot collectively or individually respond to these challenges with the same thinking that created them. We often experience a sense of helplessness and despair in the face of this darkness; the workshop will examine how we might begin to shift our perspectives to imagine a more positive future.
Through offering a space for reflection, the workshop is an opportunity to examine the darkness present within our inner and outer worlds and begin to explore how our individual emotional responses can be used as tools for action. The workshop consists of a staged process encouraging participants to engage with perceived darkness within the world by proceeding, in silence, through guided steps of witnessing, examining emotional responses, expressing intention and formulating action.
Dark Renga Communal Poetry Workshop
Sunday 29 October 12-6pm
Jon Randall returns to Reading at the end of October to run another Dark Renga afternoon in Reading, just before Samhain. The day-long workshop will be held in a beautiful oak-filled garden, around an outdoor fire, and inside too if warmth is needed. There will also be slow time spent walking amongst the ancient trees of Clayfield Copse in Emmer Green.
On a wintry, crisp day in February 2017, a small group of gallant souls gathered at Clayfield Copse, an area of ancient woodland in north Reading, to embrace the ancient Chinese form of Renga poetry, creating a carefully crafted communal poem in the space of a day. With the trees bare and the ground crunching underfoot, we walked the woods, and wove our stanzas together, as the low sun faded early into night. Huddled around the wood-burning stove in our borrowed yurt (thank you, Nature Nurture), the joyous skills of our facilitator, Jon Randall, teased from each of us a poetic response to the experience we were immersed in - the taste, the smell, the sound, the sight, the feel of it all. Interwoven with fun, food, and copious cups of tea, we emerged in the dark with a poem we were all proud to call our shared work.
What is Dark Renga?

Renga is an ancient Japanese poetic form made up of linked verses celebrating human relationships and the natural world. Collaboratively, we will compose a poem scattered with a mosaic of images, inspired by our time together outside; in the garden & Reading's Clayfield Copse. As the daylight fades outside, we will share poetry, conversation and tea. Anyone can take part in Renga; it is the art of communally sharing observations, space and words. We will paint a wide-ranging portrait of contemporary life in response to the sensory e
Further Information

Tea and coffee is provided but please bring a a packed lunch
Nearby parking is available. Bus routes 23 or 24.